The latest statistics show that the number of addresses holding at least $3.3 million worth of XRP has increased to 473 according to Rich List, a platform designed to track addresses holding XRP.
Data These 473 addresses are believed to hold at least 6.76M XRP, which is currently valued at $3.31M. These wallets represent 0.01% of the total number of addresses holding XRP. The data also shows that 4,727 addresses hold at least 463,912 XRP worth $226.9k.
In addition, the number of addresses holding at least 3,379 XRP worth $1,600 has skyrocketed to 472,705, and these addresses now make up a whopping 10% of the total XRP wallets. The fact that up to 10% of holders have more than $1,600 worth of XRP in their wallets is indicative of the growing confidence in the asset.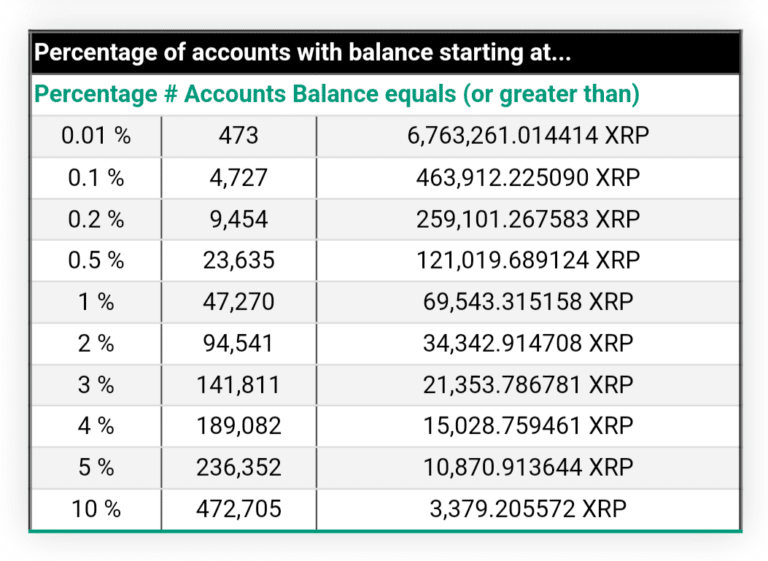 This confidence is shown in the cumulative trend seen among addresses holding between 100,000 XRP and 5 million XRP. Notably, since November, the number of addresses holding between 100,000 and 500,000 XRP has also increased. These wallets now hold over 5.2 billion XRP, up 16.6% from their total balance of 4.46 billion XRP last November.
What's more, addresses holding between 1 and 5 million XRP have begun a similar accumulation process. These wallets currently hold a total of 2.72 billion XRP. This value represents a 16.2% increase from their combined supply of 2.34 billion XRP in November 2022.
XRP Wallets Rise Amid Bullish Sentiment
Meanwhile, the total number of XRP addresses continues to rise, indicating growing interest in the asset. Rich List's Historic Wallet Count metric shows that the number of XRP wallets has skyrocketed since reaching the 4 million mark last year.
As of October 1, 2022, the total number of XRP wallets was 4.3 million. The figure is now 4.7 million, indicating that over 400,000 XRP addresses have been created by market participants in the past nine months. Messari previously also noted increase in daily active addresses and transactions in XRPL in the first quarter of 2023.
In addition, analysts note an increase in XRP's dominance in the market as a result of the growth of its market capitalization, while the share of altcoins is declining in light of recent falls. Now XRP remains in the black against bitcoin, and pXRP market dominance has increased to 2.58% in recent weeks.