The Russian oil industry may face an acute fuel sales problem after modernization of refineries against the backdrop of reduced demand in the main export market – in Europe. KPMG expects that by 2030 European consumers will reduce the use of diesel fuel as electric vehicles become more widespread, while the export needs of Russian refineries will grow at least 1.5 times – up to 60-70 million tons. Part of the diesel fuel may go to bunkering, but this will not completely solve the problem, experts say.
Russian refineries against the background of the planned growth in the production of light oil products may not find sufficient sales markets for them, follows from a study by KPMG (available from Kommersant). So, now about half of the 80 million tons of diesel fuel produced in the Russian Federation is exported, mainly to European countries. At the same time, refineries in the Russian Federation continue to modernize in accordance with agreements with the Ministry of Energy until 2030, in exchange for receiving subsidies in the form of an increased reverse excise tax on oil. As a result of modernization, while maintaining refining volumes in the Russian Federation at the level of 300 million tons per year, the production of diesel fuel by 2030 will amount to about 110-120 million tons, KPMG predicts, while the Russian market will be able to accommodate no more than 40-50 million tons.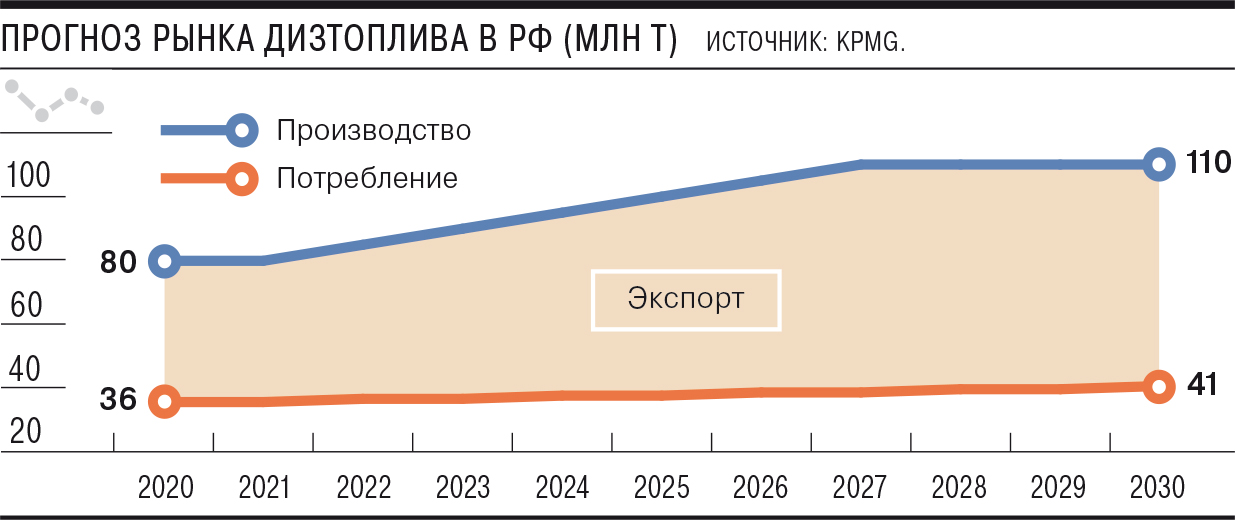 Now Russian diesel fuel provides about 70% of European imports, however, due to the environmental agenda and the transition to electric transport, diesel fuel consumption in the EU will decrease. According to Oleg Zhirnov of KPMG, excess volumes of diesel fuel produced by Russian refineries can be redirected to bunkering to replace fuel oil. Nevertheless, there will be a surplus of about 20-30 million tons of diesel fuel per year, and the search for markets for their sale may become a challenge for the refinery, notes Mr. Zhirnov. Given the development of oil refining in the APR and the Middle East, these regions are hardly worth considering as an alternative to the European market. It is possible to search for new markets in non-CIS countries, where the supply economy will be determined by transport differentials. An alternative can be new niches for the use of diesel fuel in air transport, generation and petrochemical industries, but this will require a search for new technologies, the expert concludes.
As for gasoline, by 2030 the Russian Federation will produce 45 million tons, the expected surplus KPMG estimates at 5-7 million tons, which will be exported to neighboring countries, primarily to Central Asia.
"The final growth rate of demand for gasoline in Russia is unlikely to exceed 1.5–2% per year, and by 2030–2035 it may even stop altogether," notes KPMG. This is due to both the saturation of demand for personal transport amid low economic growth and limited capacity of the transport infrastructure, and with an increase in fuel efficiency, the article says.
Petromarket estimates the surplus of gasoline at a more significant 12 million tons by 2024, expecting stagnation in domestic demand at the level of 36 million tons. Considering that 5.6 million tons of gasoline were exported from Russia in 2020, the remaining volume can hardly be placed on the Central Asian markets, says the head of Petromarket Ivan Khomutov. In his opinion, additional export of gasoline to European countries is possible, which will put pressure on prices in the region and negatively affect the margins of both Russian and European refineries.
The expert also expects a very significant reduction in the demand for diesel fuel in the EU under the influence of the climate agenda – by about 10% by 2024, or by 30 million tons compared to the 2019 level. An increase in exports from Russia in a similar situation will also lead to a decrease in benchmarks for diesel fuel in Europe and a reduction in refinery margins. However, Russian refineries are subsidized by the state through a reverse excise tax on oil, which, according to Ivan Khomutov, is unlikely to be revised until 2025. In this situation, it is more likely that some European refineries may not compete and leave the market.
…