ACRA Rating Agency has updated its macro forecast for the coming years: taking into account the surge in demand and trade dynamics in early 2021, the recovery of the Russian economy will be completed this year, accelerating GDP growth to 3.4-3.7%, and then it will return to the level of the best case is 2% per year over a five-year horizon. In this regard, the Russian Federation will coincide with the trends of the world economy, which in the coming years will be under pressure from the growth of debt burden and inflationary risks associated with the possibility of insufficiently active curtailment of monetary stimulus measures in the largest countries. The optimistic forecast scenario assumes a faster exit for both the Russian and the world economies from the pandemic amid an accelerated recovery in world trade, while the pessimistic one is softened by reducing potential damage from possible new sanctions ("a slight increase in foreign borrowing rates"). ACRA is not yet expecting a new crisis: the scenario "assumes not a sharp increase in financial and economic stress in Russia and the world, but an accelerated accumulation of imbalances, potentially leading to a new crisis".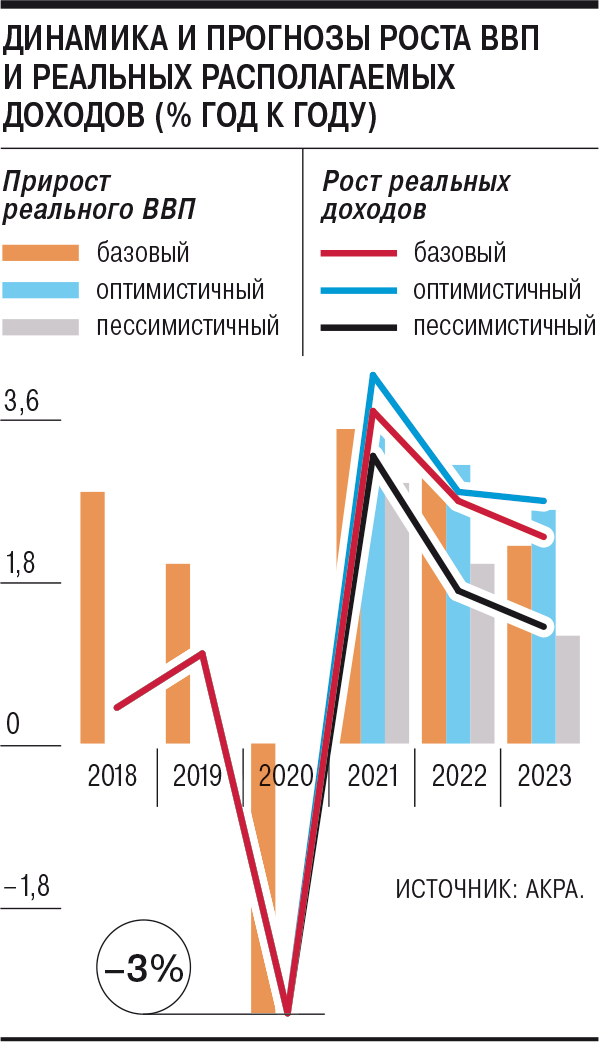 ACRA analysts expect the Bank of Russia to maintain the key rate "in the upper part of the neutral range or above it" in order to normalize inflation expectations. However, the agency, with an eye on a large number of uncertainties (harvest and price dynamics in commodity markets, rates of investment of NWF funds, "external" inflation) suggest the possibility of a faster return to neutral monetary policy than the Central Bank itself expects. According to analysts, the regulator's forecast for the average rate for 2022 (5.8%) is overestimated and "looks like an expectation of a fairly long balancing of supply and demand in the period of recovery from the pandemic." The agency itself assumes that the rate will decline faster (5.25% at the end of 2022 in the baseline scenario).
Relatively positive dynamics in ACRA expects from the real disposable income of the population, assuming that their long-term decline will end this year and the growth rates "will be comparable to the rates of economic growth, which was typical for the Russian economy until 2014" (see graph). The decline in 2015–2019 in ACRA is associated with "a long-term adjustment of the economy to new external economic conditions".
…