The United States District Court for the District of New Hampshire ruled final decision in a lawsuit filed by the Securities and Exchange Commission (SEC) against LBRY, Inc. The ordinance recognizes LBRY, Inc. responsible for violating section 5 of the Securities Act of 1933.
The decision is likely to set a legal precedent for fellow District Court Judge Analissa Torres, who is due to rule in the SEC v. Ripple case in the coming months, as well as in the SEC v. Coinbase case.
Decision in LBRY v. SEC
On November 7, 2022, the court granted the SEC's motion for a summary judgment finding LBRY liable for a Section 5 Securities Act violation. The judgment of the Court (doc. 86) prompted the Commission to apply for a final judgment, which has now been accepted by the Court.
The final judgment permanently restricts and obliges LBRY not to violate section 5 of the Securities Act.
The decision in the LBRY case raises questions about the potential outcome of the ongoing litigation between the SEC and Ripple and Coinbase, but left some questions unclear. In his ruling, Judge Barbadoro said:
"Accordingly, I take no position as to whether the registration requirement applies to LBC offerings in the secondary market."
The secondary market is where traders buy and sell securities, while the primary market involves trading directly with the company issuing the securities.
The market will not be helped by this decision about whether the LBC token itself is a security. The judge sidestepped this issue and did not take into account the main points of doctrine. In general, the case brought nothing but harm to one company and its employees. So much for clarity through the courts – commented on this decision lawyer Bill Morgan.
Implications for Ripple and Coinbase
The Ripple case involves similar allegations related to the sale of XRP as an unregistered security. Deaton notes that the SEC in the Coinbase case cited the LBRY judge's conclusion in summary form and argued that the judge did not distinguish between direct sales from an issuer (LBRY) and secondary sales on exchanges.
This implies that the judge has reviewed all of their securities sales transactions. At least now Coinbase can say it doesn't mean that and the order doesn't apply to those transactions. By no means do I claim that this is an unconditional victory, but I believe that this is better than just publishing the original decision – Deaton said.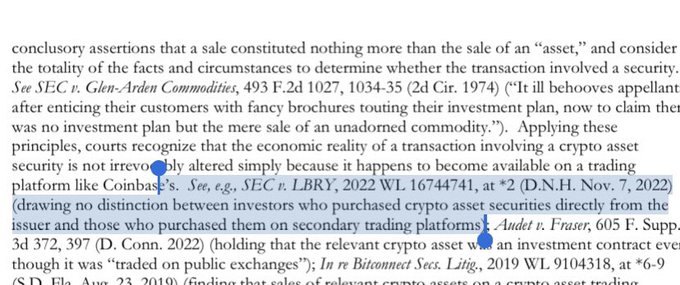 The New Hampshire judge clarified at the appeal hearing that LBC is only considered a security when the sale is made directly. The SEC has also recognized that secondary market sales of LBCs are not securities.
John Deaton and Ripple's Chief Technology Officer (CTO) David Schwartz recently expressed their expectations for Judge Torresby's summary decision in September.