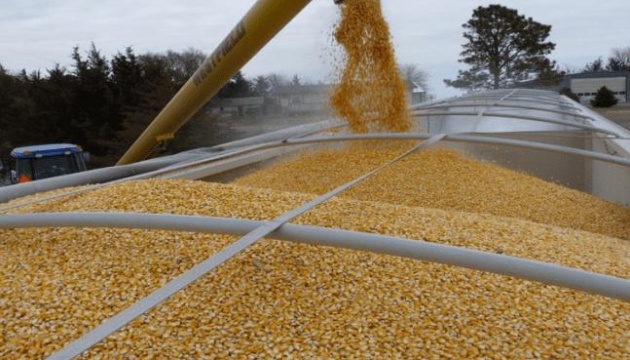 Russians exported tens of thousands of tons of sunflower and grain from Luhansk region – Gaidai
To export wheat from the Luhansk region to Russia, the invaders hastily built a railway to Starobelsk.
About this in Facebook Chairman of the Luhansk Regional State Administration Serhiy Gaidai said, Ukrinform reports.
"The agro-industrial complex of the region is 1152 agricultural enterprises, of which 855 are small farms. Every year they produced more than a million tons of grain, 600 thousand tons of sunflower, three thousand tons of meat, almost 20 thousand tons of milk and 24 million eggs. To transport grain from Starobilsk to Russia, even a railway was quickly organized," the report says.
It is noted that over the past two years, the state has provided almost UAH 320 million in assistance to rural residents of the Lugansk region as part of the Program for Supporting Agricultural Producers. For these funds, an ultra-modern elevator was built with its own railway in Rubizhnoye, where 30,000 tons of grain were stored at the same time.
Read also: The Russian Federation wants to lift sanctions on the export of its grain in exchange for the opening of Ukrainian ports – UN
The Russian invaders blew up this elevator, seized the property of most agricultural enterprises and exported Ukrainian grain. In fact, the scale of the crimes of the invaders is many times greater: they took 15,000 tons of sunflower and 10,000 tons of grain from the granaries of the region.
At the same time, "people's power" is harvesting grain for the future sowing season, offering farmers "favorable conditions for purchases" – 8 thousand Russian rubles, while Ukraine paid 8.6 thousand hryvnias per ton of products. And now they are making plans to get a record harvest of winter wheat – about a million tons of grain. Winter – that is, sown in the fall, on the fields of the peaceful Ukrainian Lugansk region.
In practice, producers will be paid only 30% of the cost of grain, moreover, in rubles. Experts understand that it is impossible to carry out a sowing campaign for the harvest of 2023 for these funds.
"Fortunately, 10 agricultural enterprises managed, although not completely, to save their assets and, using the state program of farm relocation, are deploying production in the safe territories of Ukraine. True patriots of the Lugansk region, they have always supported our Defenders and even in such extremely difficult conditions have already provided humanitarian aid to fellow countrymen and the Armed Forces of Ukraine for almost a million hryvnias," Gaidai said.
Read also: Situation on Luhansk region: the battle for Severodonetsk continues, the enemy presses from Popasna
On February 24, Russia launched a full-scale invasion of Ukraine. Russian troops are shelling and destroying key infrastructure facilities, carrying out massive shelling of residential areas of Ukrainian cities and villages using artillery, multiple launch rocket systems, air bombs and ballistic missiles.