According to the results of the first quarter of 2021, the total premiums on life insurance amounted to 115 billion rubles. (an increase of 6.3% compared to the same period last year). Such data was presented yesterday by the All-Russian Union of Insurers (ARIA). The main driver of growth in this segment is accumulative life insurance (HCI) with premiums of 32.7 billion rubles. (an increase of 18%). The premiums in investment life insurance (ILI) continued to decline – to 46.3 billion rubles. (down 4.4%). The premiums on credit types of life insurance increased by 23.3% to 25.5 billion rubles. The remainder of the fees are non-credit accident policy sales and voluntary health insurance.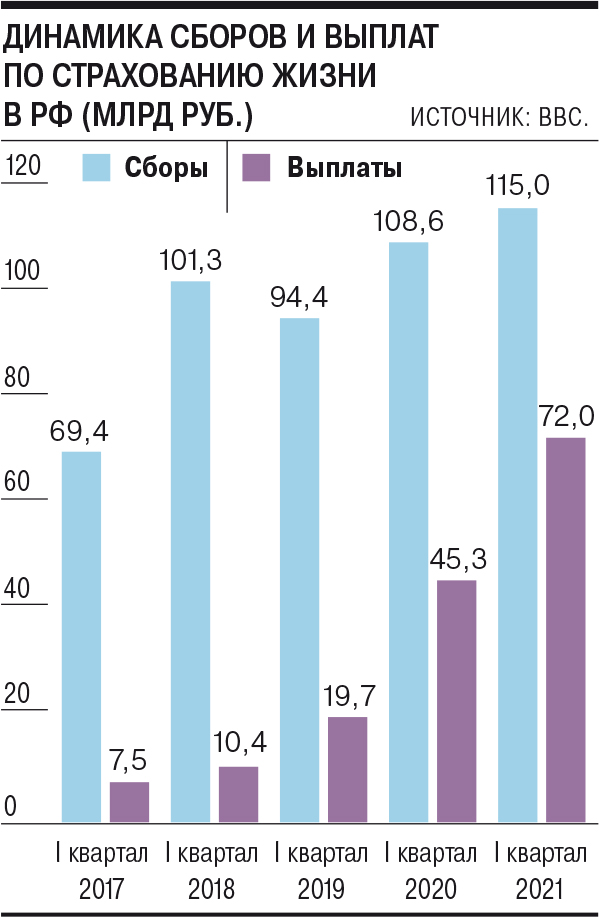 Payments in the segment, in turn, showed an explosive growth in the first quarter – by 59.1% at once against the same period of 2020 (up to 72 billion rubles). The head of the company "Capital Life Life Insurance" Evgeny Gurevich yesterday made a forecast that by the end of 2021 a record in payments would be set – they could exceed 300 billion rubles. As Viktor Dubrovin, VSS Vice President, explained to Kommersant, the expected record payments are due to the fact that in 2018 there was a peak in fees for ILI: "Then there were basically three-year contracts, so 2021 will be a record year for the growth of payments."
Recall that it was in 2018 that the Central Bank lashed out with criticism about the low profitability of ILI and the practice of incorrect sales. The result was the emergence of standards for the rules for the implementation of such products. As a result, according to ARIA, in the first quarter of 2021, for the first time in the history of ILI, payments exceeded contributions (57 billion rubles and 46 billion rubles, respectively). The decline in the popularity of such policies leads to the fact that the new fees do not cover the payments of companies under the old contracts.
Meanwhile, the Central Bank received 498 complaints against life insurers in the first quarter, and this is only 5.6% of the total number of claims against companies (the leader is OSAGO). The amount of reserves of insurers at the end of the quarter amounted to 1.36 trillion rubles. (plus 2.8%). According to the head of ARIA, Igor Yurgens, "life insurers have firmly established themselves among the key investors in the Russian economy and in government securities: reserves in the amount of 1.36 trillion rubles. to a large extent, these are just such investments – and they are showing growth, despite the difficult period for the Russian economy. "
…