From 2015 to 2020, the level of injuries at Russian enterprises decreased by half, experts of the Aktion Labor Protection system (part of the Aktion-MCFER media group), who analyzed the reports of Rostrud and Rosstat, record. If in 2015 the number of industrial deaths was 2,071, then by 2020 it dropped to 1,024. The total number of industrial accidents with serious consequences also decreased (by 35%). In 2015, 7137 employees were seriously injured, in 2020 – 4595.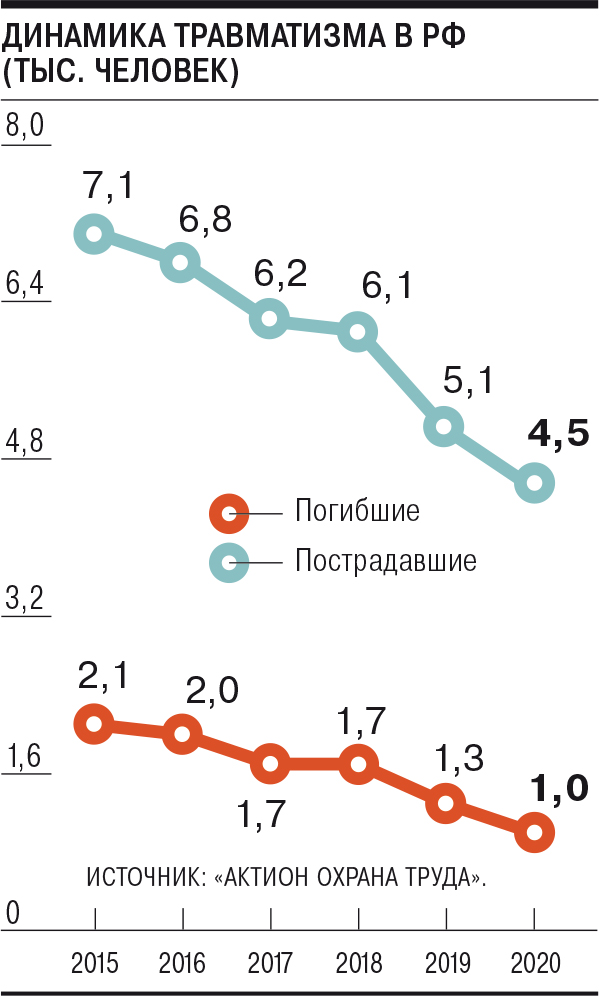 This decrease, experts say, was facilitated, on the one hand, by the tightening of legislation in the field of labor protection: since 2015, fines for violations have been increased threefold (from 50 thousand to 150 thousand rubles), on the other hand, the fact that employers are spending more on employee safety. According to Rosstat, over ten years, from 2009 to 2019, such costs more than doubled, to 14.8 thousand rubles. for one worker.
The highest share of jobs with harmful and hazardous working conditions is in the field of mining – 55%, in manufacturing – 43%, and in construction – 37%. Taking into account the statistics on the number of deaths as a result of accidents, construction (22% of the total number of deaths), processing (17%), agriculture and forestry, hunting and fishing (14%) are in the lead. Most often, workers are injured when falling from a height (30% of all cases). Another quarter of all cases are caused by moving or flying objects, 13% – by traffic accidents. According to Rostrud, more than half (53%) of industrial accidents occur for organizational reasons.
According to the leading expert of Aktion Labor Protection, Ekaterina Sitko, since equipment flaws and imperfect technologies have ceased to be the main causes of injuries at work, the Ministry of Labor intends to introduce the concept of "occupational risk management" into the Labor Code. The corresponding law was adopted by the State Duma yesterday. "When employers begin to systematically identify hazards and assess occupational risk levels, they will receive information about possible injuries and can prevent them. These changes should reduce injuries and increase the safety culture at enterprises, "says the expert.
…