In January-April 2021, Russia's foreign trade turnover increased with all countries that make up the top 10 of its main trading partners. As the Federal Customs Service reported yesterday, following the results of four months of this year, the foreign trade turnover of the Russian Federation increased by 16% compared to the same period in 2020, to $ 217.8 billion.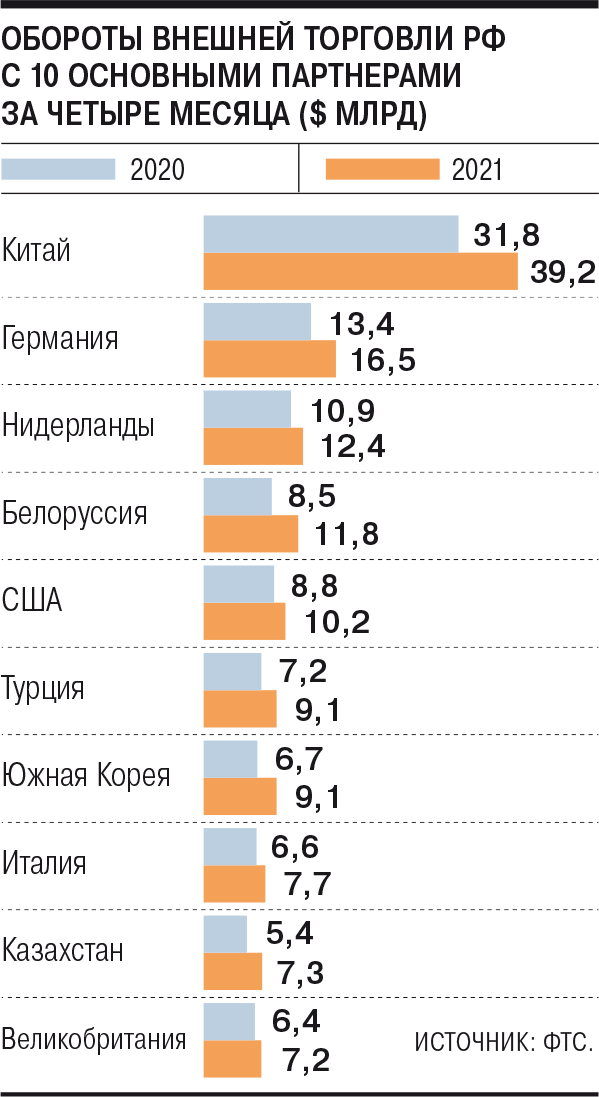 Exports, more than half of which (52.1%) were energy resources, grew weaker than imports. The volume of export of goods from the country increased by 11.3%, to $ 129.5 billion, and the volume of import – immediately by 23.7%, to $ 88.3 billion. The modest increase in exports is largely due to the fact that compared to January-April In 2020, the value of fuel and energy products remained at the level of the previous year, while the physical volume decreased by 6.7%. Including physical supplies of oil decreased by 21.9%, and motor gasoline – by 11.4%.
China is traditionally the first in the top 10 trade partners of Russia. The recovery in business activity after the pandemic led to an increase in trade with China by 22.3% compared to January-April 2020, to $ 39.2 billion. In addition to China, the top three in terms of turnover with Russia, like a year ago, are Germany ($ 16.5 billion, plus 22.8%) and the Netherlands ($ 12.4 billion, plus 11.7%). In the top 10 for the year among non-CIS countries, the turnover of trade with South Korea (by 34.7%) and Turkey (by 22.5%) also noticeably increased.
Trade with Russia's partners in the EAEU – Belarus and Kazakhstan – has been recovering even more intensively during these four months. The Russian-Kazakh turnover grew by 35.2%, from $ 5.4 billion to $ 7.3 billion. The more significant turnover with Belarus increased by 38.8%, from $ 8.5 billion to $ 11.8 billion. The turnover of trade with the United States, despite all the geopolitical difficulties of relations with the Russian Federation, also increased – at the level of the average value for all Russian foreign trade – by 15.7%, to $ 10.2 billion.
In general, in the country structure of foreign trade of the Russian Federation, the European Union accounted for 35.4% of Russian trade in January-April 2021 (a year earlier it was slightly more, 36.3%), the CIS countries – 12.5% ​​against the previous 12% , for the APEC countries – 34.1% against 33.6% in the first four months of last year.
…