According to the survey of the banking sector, published yesterday by the Central Bank (.pdf), in the first quarter of 2021 the outflow of funds from the population from banks amounted to 856 billion rubles. (minus 2.6%) and was due to "mainly seasonal outflow in January". The second reason for the withdrawal of money from banks is low rates on deposits (weighted average for all terms is 3.4% per annum), which contributed to the flow of savings of individuals to current accounts, to the stock market and to the real estate sector.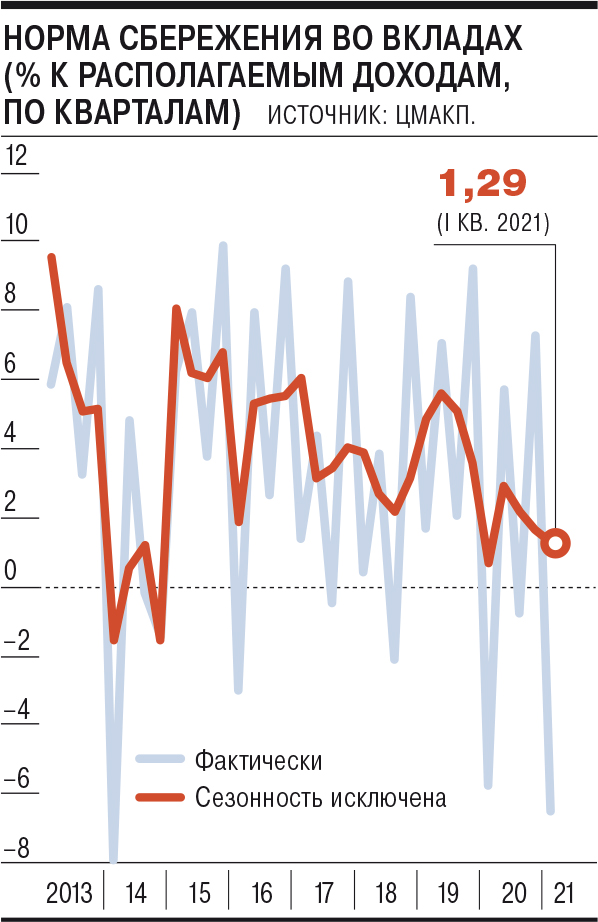 According to the economists of the CMASF, the savings rate of citizens in the form of deposits in the first quarter of 2021 (seasonally adjusted) dropped to the second minimum value, counting from the fourth quarter of 2014 (see graph). The previous low was recorded in the first quarter of 2020 against the backdrop of rush demand that preceded the lockdown. "The low level of interest rates stimulated the outflow of funds of the population from bank deposits into the expansion of financial assets, as well as into the consumption and acquisition of real estate. The rapid expansion of consumer lending also contributed to the same factor – increased consumption growth, "- noted in the June analysis of macroeconomic trends by the CMASF. According to the Central Bank, due to increased consumer demand and increased risk appetite among banks, the volume of mortgages in the first quarter increased by 5.4%, consumer loans – by 3.7%, car loans – by 3.1%. The annual growth rate of the portfolio of loans to the population in April in nominal terms amounted to 19.6% against 16.2% in March.
The head of the Central Bank's banking supervision department, Alexander Danilov, said yesterday that he allows the resumption of growth in the population's funds in banks in connection with the increase in deposit rates: "Funds on accounts may grow more due to the fact that banks will probably raise rates. Already, in any case, we see that in some cases there is an increase in rates ".
An increase in interest rates on loans, and especially on preferential mortgages (Vladimir Putin at the SPIEF proposed to extend this program for housing in new buildings in all regions of the country until July 1, 2022, setting the rate at 7% per annum instead of the current 6.5%). Mr. Danilov admitted that this will serve to reduce the volume of mortgages, since "in some markets, in particular in large cities, this will be a significant limiting factor."
…