The volume of imports to China in May showed a record growth in 11 years: imports increased year-on-year by 51.1% against 43.1% in April, while export growth, on the contrary, slightly slowed down – from 32.3% to 27.9 % (month-on-month, the indicator decreased by 2.8%, while imports increased by 1.4% versus April). China's trade surplus, however, still grew over the month from $ 43 billion to $ 46 billion. The dynamics of imports is mainly explained by the low base effect, and the surplus growth looks rather low compared to previous years, Capital Economics notes. In general, in May, there was a sharp increase in China's imports of food products, in particular soybeans (from Brazil, not from the United States, with which a trade deal is in force), oil imports also grew, and in other categories, supplies were likely to decline. As for exports, amid a shortage of chips, the export of electronics decreased, and the supply of other consumer goods also slowed down – this indicates the exhaustion of the surge in demand for Chinese goods against the backdrop of the pandemic, the center points out.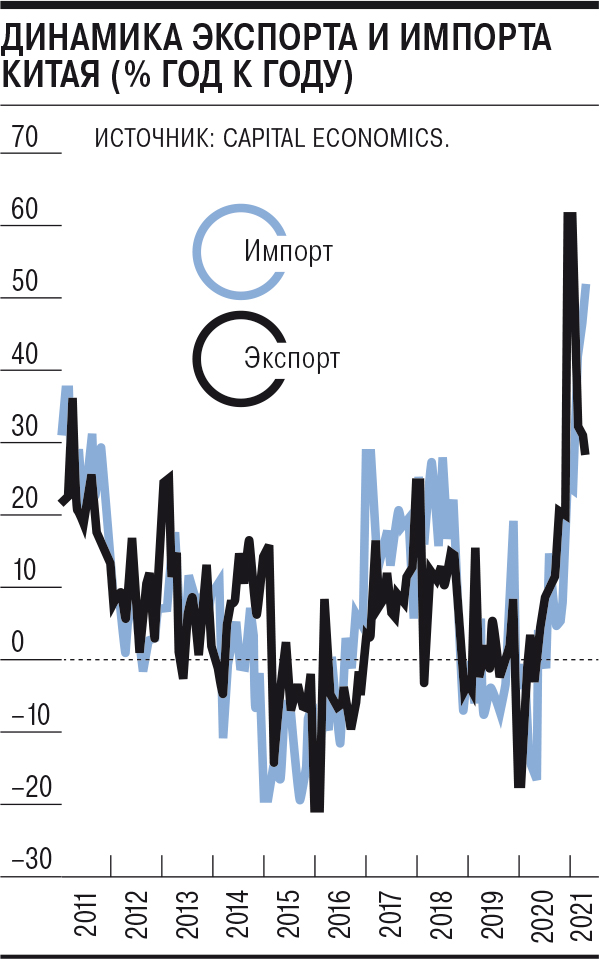 World trade is also recovering quite actively – this is evidenced by the readings of the "trade barometer" (the index is calculated by the WTO). In May, it amounted to 109.7 points – 21.6 points higher than a year ago, which just describes the expected dynamics in actual data (world exports are likely to show a sharp increase in the second quarter). According to the organization's forecast, in general, in 2021, the increase will be 8% after the decline last year by 5.3%.
Actual data for the first quarter is still available only for the G20 countries – their imports and exports by the fourth quarter of 2020 increased by 8% and 8.1%, to $ 4.01 trillion and $ 3.97 trillion, respectively (in the fourth quarter of 2020 years – by 7.5% and 7.2%). However, this dynamics was facilitated, among other things, by an increase in prices for agricultural raw materials and oils (an increase of more than 10%) – as a result, Argentina (plus 33.3%), Australia (plus 17.5%), Brazil (14, 7%) and South Africa (17.3%). Oil prices in the first quarter also increased significantly (by 35%), which affected the increase in exports of Canada (plus 10.8%), Russia (13.1%), Indonesia (12.4%). In the United States, exports grew by 5.7% and imports by 5.3%. In China – by 18.9% and 19%, respectively.
…