In 2020, there were 20.8 million people in the world, whose fortune exceeded $ 1 million, and during the crisis year, their number increased by 6.3%. Such calculations were presented by Capgemini SA in its World Wealth Report. The study takes into account data on 71 countries – these countries account for more than 98% of the world's gross income and 99% of the capitalization of global stock markets.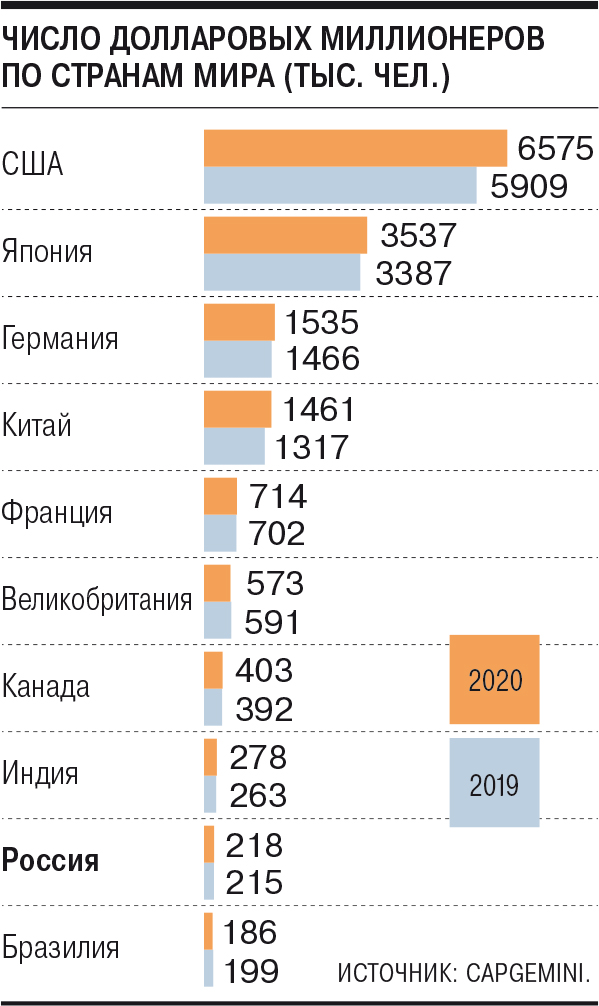 The United States is in first place among countries in terms of the number of dollar millionaires – in 2020 their number in the country increased by 11.3% and reached 6.575 million people. Also in the top 5 countries are Japan (3.537 million people), Germany (1.535 million people), China (1.461 million people) and France (714 million people). Russia ranks 16th in the ranking. The country is home to 218 thousand people, whose fortune exceeds $ 1 million – over the year their number increased slightly, by 1.2%.
In general, in 2020, the combined fortune of dollar millionaires in the world increased by 7.6% and amounted to $ 79.6 trillion. The majority of people (89.9%) in this category are the owners of assets, whose fortune is $ 1-5 million. Those whose fortune reaches $ 30 million account for 9.1%, for people with a fortune over $ 30 million – 1%. It is the last group that demonstrated the maximum growth rate of the total amount of funds in 2020 – by 9.1%.
Taking into account the volume of aggregate wealth, North America is in first place among the regions of the world ($ 24.3 trillion), in second place is the Asia-Pacific region ($ 24 trillion), in third place is Europe ($ 17.5 trillion). The smallest number of millionaires and billionaires live in Africa – their combined wealth is only $ 1.7 trillion. As the authors of the report explain, the main reason for the increase in the number of millionaires and their combined fortune is the significant rise in stock markets in 2020.
Capgemini SA's estimates differ markedly from the data of the Swiss bank Credit Suisse (apparently due to different methods). According to the bank, by the end of 2020, the number of dollar millionaires in the world increased by 5.2 million – up to 56.1 million people. Credit Suisse also estimates the dynamics of the number of rich people in the Russian Federation differently – according to the bank, in 2020 it decreased by 44 thousand people, to 269 thousand people (for more details, see Kommersant-Online).
…