Russia ranks 17th in the world in the number of publications in the field of artificial intelligence technologies (AI, 4.8 thousand in 2016-2020) 1.3 times, calculated at the Institute for Statistical Research and Economics of Knowledge (ISSEK) of the Higher School of Economics based on the scientific citation database Web of Science Core Collection. If the current dynamics are maintained in all countries, Russia may rise to 7th place by 2025, and by the end of 2030 – second only to India, China and the United States.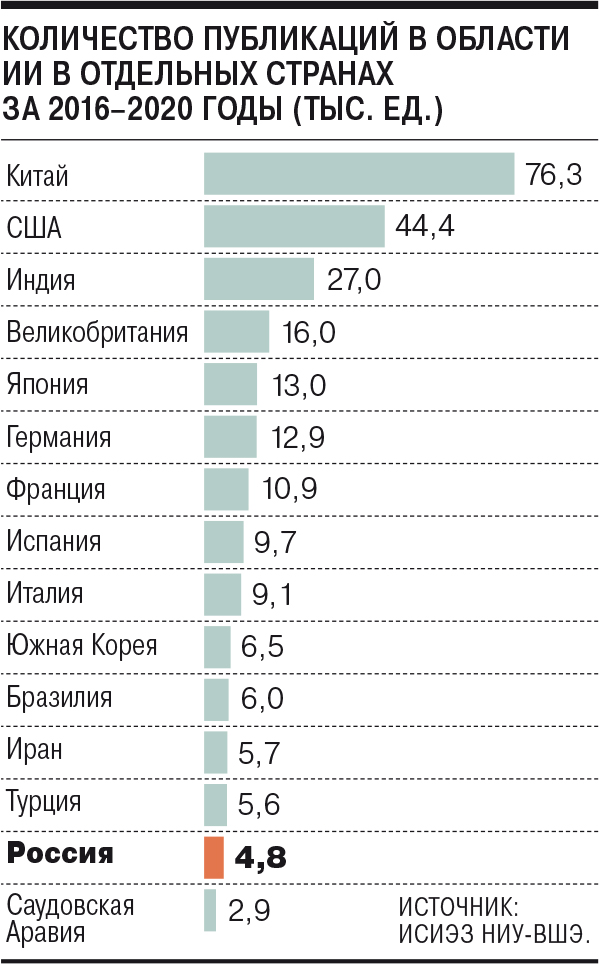 Recall that the federal project "Artificial Intelligence" involves the creation of six scientific research centers in the Russian Federation from 2021 to 2024 and expects at least 90 articles on AI by 2024 in 25% of the most influential journals indexed in Web of Science or Scopus. So far, only 35 studies have fallen into this category – most of them are at Skoltech (13), NRU HSE (10), RUDN (7) and MIPT (5).
Most of the research and development in the field of AI is produced in Moscow – the city also ranks 17th in the world (2003 publications), but in terms of the average number of citations – 2.9 per publication – only in 35th place. In 2015–2020, the number of publications increased 2.5 times compared to the previous five-year plan, but the lag behind the leading cities remains significant: authors from Beijing have 19.6 thousand publications, from Shanghai – 7.2 thousand, from San -Francisco – 6.8 thousand. However, among cities from developing countries, Moscow remains the leader – the closest competitor, Sao Paulo, has 1.3 thousand publications.
In Moscow, the largest number of publications in the field of AI in 2016–2020 were prepared by researchers from HSE (271), MIPT (232), MEPhI (226), Moscow State University (195) and the Federal Research Center "Informatics and Control" of the Russian Academy of Sciences (193). Researchers from Rostov-on-Don, Kazan, Tomsk, Volgograd, Yekaterinburg and several universities in St. Petersburg are also published. More and more works are being released by representatives of large IT companies. So, in the corporate ranking in 2016-2020, the top 100 in terms of the number of publications included Microsoft (1455 publications, of which 175 are in Q1), Google (1312 and 76) and IBM (989 and 54). In Russia, Yandex (42), the Center for Speech Technologies (39) and Roskosmos (33) have the most publications.
…